Pracujesz na umowie śmieciowej? Możemy pomóc!
XXV Congress of the IWA
Anonim, wt., 10/12/2013 - 22:40
Image: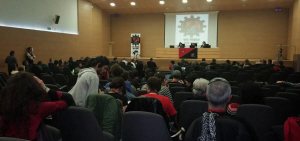 From December 6-8, 2013, the XXV IWA Congress took place in Valencia, Spain. Around 150 people took part in the Congress, with delegates coming from France, Germany, Italy, Spain, Portugal, Great Britain, Australia, Brazil, Argentina, Norway, Serbia, Poland, Russia and Slovakia. Observers also came from the FIJL – the Iberian Federation of Libertarian Youth.
Towards the beginning of the Congress, we welcomed new organizations to the IWA: the Autonomous Workers' Union of Bulgaria and the FAS from Austria. The status of the Australian Section was also settled. With these new organizations welcomed to the International, we proceeded with a long list of internal and practical issues.
One project approved will encourage the creation of branch networks in the IWA. We also discussed issues of different countries where we should be seeking more contacts and promoting our ideas. A number of new procedures were adopted to help us function better and improve the transparency of the federation.
Almost 30 points were on the agenda, which made the Congress difficult to finish in three days. A number of issues were left outstanding. For this reason, an Extraordinary Congress will be held next year.
The IWA also decided to hold its Congresses more frequently – once every three years. The next regular Congress will be held in 2016 in Poland.
The ZSP from Poland assumed the IWA Secretariat for the next three years.
Besides the Congress, the local CNT organized a series of talks before and during the Congress for the public to attend. There also was an exhibition of posters. Inside the Congress, one could buy, trade or receive a wide variety of publications made by the Sections. All of the delegations also received wonderful gifts from the Anselmo Lorenzo Foundation, including a great encyclopedia.
After long days of hard work at the Congress, we relaxed together over food, drink and revolutionary songs sung in the many languages of the comrades.