Pracujesz na umowie śmieciowej? Możemy pomóc!
Strike in EULEN-ABB enters its second week
Anonim, śr., 07/12/2011 - 12:07
Image: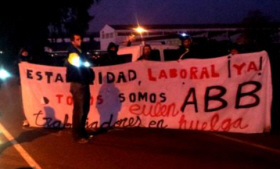 Decision to use another service provider is clearly a union-busting tactic.
EULEN workers in the ABB factory in Cordoba, Spain started an indefinite strike on Nov. 28. Since then, the strikers have been camped out all day and night in front of the company. The strike was called by the CNT and CGT unions in the company in response to the illegal assignment of workers from EULEN who were contracted to work in ABB. EULEN provides services such as cleaning and maintenance to other companies and public administration.
ABB announced that as of January 1, it will not renew its contract with EULEN and instead will use the services of EUROCEN, which is part of the ADECCO multinational.
It is assumed that the new company will be used to get rid of all the workers currently striking.
The CNT points out that the problems related to the work in ABB are also related to outsourcing in general. The workers employed through EULEN in fact work for ABB and take orders from them, but they have a much lower salary than regular ABB workers and ABB takes no responsibility for them as an employer. There is also the fact that the relevant collective agreements for the work they actually perform are not applied. The CNT came into conflict with EULEN-ABB in 2010 over this issue.
Prior to the strike, the bosses created a few other conflicts and there were instances of union repression against activists of the CNT. These incidences were against CNT unionists in EULEN working not only in ABB but also in the University of Cordoba and Cosmos, where EULEN also has a contract.
Over the last week, various sections of the CNT have made solidarity actions with the strikers and a demonstration with over 300 supporters was held in Cordoba.
About the conflict with EULEN:
http://www.iwa-ait.org/?q=node/59
About the reinstatement of EULEN worker in ABB:
http://internationalworkersassociation.blogspot.com/2011/03/cordoba-cnt-...
About the creation of a CNT Union in EULEN Cosmos
http://www.cnt.es/en/news/cordoba-new-cnt-union-section-created-eulen-su...
For those who speak Spanish, you can visit the EULEN workers' forum or the page of the CNT Cordoba for more information:
http://cordoba.cnt.es/foros/eulen
http://cordoba.cnt.es/eulen