Pracujesz na umowie śmieciowej? Możemy pomóc!
Solidarity with Visteon Workers against Closure of Factory
Anonim, pt., 09/09/2011 - 23:00
Image: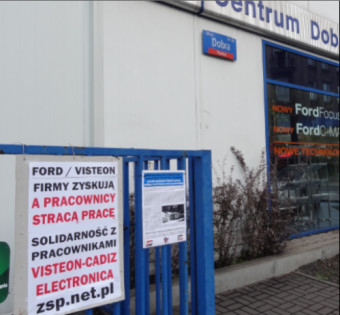 Around Warsaw, posters have been hung on Ford dealerships, telling the story of the struggle of the workers at Visteon Cadiz Electronica to keep their jobs. The informational action proceeds the next international day of action against Visteon/Ford which will take place on Oct. 14. The CNT in Visteon are fighting against the closure of the factory and the redundancy plan.
The ZSP took part in the last day of action and also visited Ford headquarters a few more times. (Quite coincidentally, it is located two floors below Plaza Centers in the same building.) Members of ZSP also managed to show a solidarity banner to Jose Luis Zapatero on his recent visit to Warsaw.
Photos: https://zspwawa.blogspot.com/2011/10/solidarity-with-visteon-workers-aga...