Pracujesz na umowie śmieciowej? Możemy pomóc!
Solidarity with the Teachers! The Strike is our Best Weapon
Anonim, nie., 02/12/2012 - 10:28
Image: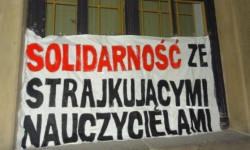 Teachers went on strike in Slovakia last week, demanding a 10 percent pay raise. Such a demand is more than justified. We carry out important work but the remuneration is hardly enough to allow for a comfortable life. The teachers said that they would strike til the end, until they got this raise.
We praise this attitude, to fight to improved work conditions and to use such action to force change. However the main union quickly showed that it was afraid and felt in a weak position. Talk about 5% raise and they were ready to call an end to the strike.
A couple of schools remained on strike anyway, pressing on with the demands, in contrast with the retreating union. We send our solidarity and greetings to our colleagues in these schools. Your actions are a good example for teachers in this country, whose unions have been accepting various cuts as we are told that their is "not enough money" in the budget. This, we all know, is not true: but if we do not organize and fight, they will keep us on wages so low that many of us cannot survive without a second job.
Colleagues, you can see that these unions, which are controlled from above and do not have a fighting spirit, are not the best instrument to fight for your interests. Organize yourself directly and keep on fighting!
You are not alone in this struggle. Around the world, the rights of workers and their work conditions are coming under attack in an unprecedented manner but people are fighting back. What's more is that education is an area which affects us all, so there are great opportunities to mobilize support from the public.
This strike in Slovakia hopefully is not the end, but just the beginning. A lot is yet to be achieved.
In international solidarity,
ZSP Education Workers Union, Warsaw
More info: http://www.priamaakcia.sk/Education-workers-strike-sabotaged-by-the-unio...