Pracujesz na umowie śmieciowej? Możemy pomóc!
Soldarity with CNT in Visteon Cadiz
Anonim, sob., 20/08/2011 - 00:33
Image: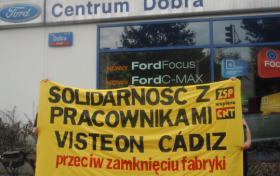 The ZSP-IWA stands in solidarity with the workers of the Visteon Cadiz Electronica plant, struggling against the closure of the factory. We took part in the International Day of Struggle against Ford-Visteon called for by the CNT and the IWA, organizing a couple of pickets and informing the public, which was overwhelmingly sympathetic, of the situation.
Visteon is a company created by and dependent on Ford. Ford has created a network of legally independent companies through which it can outsource work, transfer funds and do all sorts of machinations to avoid tax liabilities and their responsibilities towards workers. Visteon/Ford also profits off opening up factories, shutting them down, moving money around to hide their wealth and even to cheat the workers. 450 workers in Cadiz face the elimination of their workplaces due to corporate greed. The CNT union section in Visteon is fighting against the closure, while other unions are engaged in a pantomime struggle, negotiating redundancy plans with the bosses.
All our solidarity and support goes to the uncompromising position of our sister union in Spain, which does not accept the elimination of the workplaces and which seeks to mobilize workers to struggle and not give up.
During the International Day of Action, we organized two pickets in Warsaw, one in Chorzów and one in Katowice. In the Fiat plant in Tychy, leaflets were hung in the workers' hall, informing about the situation.
Since Visteon has no offices in those places, we visited Ford. The Ford Polska headquarters is in Warsaw, so we went there. The location is quite bad for a picket as it is located in an office park where there are no passersby but we gave leaflets to employees and a letter to the management, expressing our concern with the closure of the plant and our opposition to their company's treatment of the workforce.
We decided to hold another picket later in the afternoon with more people at a Ford dealership someplace where more people pass by. Unfortunately, nature sabotaged us a bit; there were strong thunderstorms and even hail, so there were too few people on the streets. Nonetheless cars were driving by, so we stayed with a banner and gave out leaflets to pedestrians and cars stopped at the traffic lights. People were overwhelmingly sympathetic to the workers struggling to keep their jobs.
Later that evening, as a result of the picket at Ford headquarters, we received interesting information from one employee about what happened with Visteon in Poland, how the factory of this supplier was bought and sold 5 times since 2005 and is planning reductions now. When Visteon took over the Polmo factory in Praszka in 2005, it halved the workforce, from 1620 workers to 800. Visteon fired many people one or two at a time in order to avoid paying them the 24 months severance pay they would have been obligated to give under the collective agreement. There were only some symbolic actions of the unions. Later, there was the "threat of a strike" in 2007. 90% of the workers voted to strike in a referendum but the unions called it off after negotiating a much smaller pay rise (35 euros a month) and a 10-year guarantee of employment. Only Visteon got rid of the factory that year, only two years after purchasing it. And it seems that the owners change every one or two years, as well as the agreements with the workers. The current owner in another shady company called Neapco, which announced this week it would cut the current workforce by 10%.
We see with this story what the situation of workers in Poland's automobile industry is like. This is not anything unusual. In some countries, the biggest problem may be the delocalization of the workplace the shutting of factories but we also see problems like this in many factories: a complicated web of owners, constantly shifting and reneging on collective agreements, workers whose militancy is dissuaded by cadres of union bureaucrats or who feel constant pressure that their jobs will be eliminated. Also there is the widespread use of contract workers, or temporary workers who never get permanent employment since they are transferred between different firms, but essentially doing the same job and producing the same parts for the same companies.
Now that we know about this situation, we will make some effort do find out more about these workers in Praszka and also to pass on the news about what is happening in Cadiz. In general we have been informing about that situation. We translating some articles and also had a film showing, after which there was a discussion about the structure of Ford, the nature of work in the company and the situation of the factory in Cadiz.
We also sent our protests internationally to the offices of both Visteon and Ford.
Since the weather was so bad today, we did not manage to give out all our leaflets, so, since we do not like to waste paper, we will just have to go back to Ford with another picket at the beginning of next week.