Pracujesz na umowie śmieciowej? Możemy pomóc!
Protest Against Thieving Bosses at Messeshop
Anonim, nie., 09/12/2012 - 23:59
Image: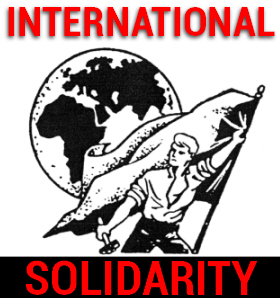 What a mess! Messeshop firm has been refusing to pay immigrant workers for almost one year. Send them a protest and let them know what you think of their practices!
Sign the online petition here.
In May 2012, two comrades from FAU went to their section, Construction and Technology, asking for help as they had been waiting several months to payment for work they had done.
What happened?
The comrades were working in February and March 2012 in Eimersleben (near Magdeburg) at a company that builds stands for fairs called "Messeshop"". They were used as self-employed workers at the "Fruit Logistica" and "ITB" fairs in Berlin. After they sent their invoices, they waited in vain for their pay.
Although the law is clear, the owner of the company refused to even negotiate with the union. The case reveals is not only a dispute over payment for services rendered. Rather, it is a case of how foreigners are exploited on the German labor market.
FAU calls for:
Immediate payment of their two members
Transfer of bogus self-employment to socially insured jobs