Pracujesz na umowie śmieciowej? Możemy pomóc!
Protest against Liquidation of 8-hour Day and Attacks on the Rights of the Unemployed
Anonim, czw., 20/06/2013 - 20:32
Image: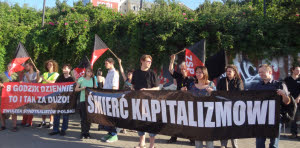 On June 20 we organized a demonstration in Warsaw in defence of the rights of workers and the unemployed. The demonstration was originally supposed to be just in defence of the unemployed. The government wants to introduce rules that would take unemployed people off the register, deny them benefits and even health care if they turn down any job offer. In such a way, they will drive down wages and promote shit jobs as employers will think that nobody will be able to refuse them. However, on June 13, the Sejm approved changes to the Labor Code and the Act on Trade Unions that in effect abolish the 8-hour day. (More information here: http://www.iwa-ait.org/content/poland-no-more-guarantees-working-hours) So naturally we had to protest against this issue as well.
Many people stopped to listen to some speeches, complaining that there is no good information in the media on this topic. We explained how the new rules will work and the fact that employers will be able to give workers schedules of even 12 hours a day, for 6 days a week, and then put them on leave for almost 6 months, paying them minimum wage during that time. People spoke about how hard workers struggled for the 8-hour day and how easy it was to lose it, without much of the society even being aware.
We called on people to mobilize and push towards a general strike. However Poland is not like Turkey or Brazil, with thousands on the street and widespread self-organization does not exist. Despite this, we are determined to be visible on the streets and to make the problems of the attacks on workers' rights known to as many people as we can. But so far, we have been the only organize in Poland to mobilize, with some demonstrations planned in other cities in the next few days. A few activists from left organizations have supported these calls.
On the demonstration in Warsaw, people had banners like "Death to Capitalism", "Even 8 hours is too much" and "Hands of the Labor Code". It should be noted that the first slogan probably has never appeared before in Poland after the transition and was considered "too radical" even by leftist people - but for some reason, it didn't seem to bother anybody in the streets today.