Pracujesz na umowie śmieciowej? Możemy pomóc!
Pickets at Roche in Support of Comrade
Anonim, śr., 10/10/2012 - 21:31
Image: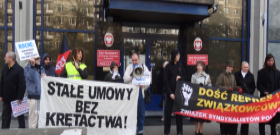 On Oct. 10, a suit against Roche Polska was scheduled to begin in Warsaw. Unfortunately for our comrade, who has been waiting all year for his case to begin, it has been postponed. J. is suing the company to be reinstated at work and receiving all benefits he lost while being fictitiously self-employed at the corporation.
( More information about the case )
Despite the fact that the case was postponed, people who had not been informed showed up at the court, so a picket was held outside. There we explained to passersby why we were fighting. There was also a harsh criticism made on both the attacks on the labour law and the problems that workers have bringing their cases to court - a perfect example of which we faced that day.
Afterwards there was also a leafleting action at Roche headquarters where our comrade used to work. This time we found the better reception than previously and lots of workers even from other companies in the building wanted to talk about the case.
(Outside the office we also saw several DHL vans and had a chance to give information and talk to the workers. DHL's couriers all must be self-employed. In a couple of weeks we will participate in a debate on self-employment and, as we understand, some corporate folks from DHL may come and claim how their system is just great for the workers.)
There also was a picket in front of Roche's office in Poznan. Although not as effected as the Warsaw office by recent decisions to outsource work, some people have lost their jobs there as well.
Pickets, leafleting and other actions took place in other cities such as Berlin, Bratislava, Oslo and near Paris. We are still receiving reports of those actions. Thanks to everyone for the support!