Pracujesz na umowie śmieciowej? Możemy pomóc!
Picket at Adecco
Anonim, wt., 03/03/2015 - 06:44
Image: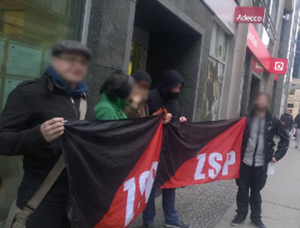 On February 27, ZSP organized a picket at Adecco work agency in Wroclaw regarding problems workers at the Amazon warehouse have been having. One of the concrete problems concerns a worker from Walbrzych who was employed in the Bielany Wroclawskie warehouse but who had an accident at work in December, caused by dragging heavy weights with a hand cart. Our colleague considers that Adecco did not help and has been making it difficult for him to collect any money. His contract was also terminated. Adecco also was pressuring him not to contact the media with this story.
In the case of the accident, the Adecco representative at Amazon refused to drive the worker to the hospital to have the injury checked. Later, they caused various problems for him to get sick leave pay and are blaming the problems on the worker.
We are demanding that Adecco rectify the situation and pay the 2.5 months' sick leave he is entitled to having suffered an accident at work. The local ZSP plans to increase the protests if this situation is not resolved quickly.