Pracujesz na umowie śmieciowej? Możemy pomóc!
IWA Days of Action
Anonim, pon., 02/04/2012 - 09:09
Image: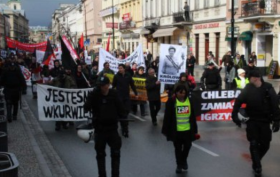 ZSP organized several protests during the IWA Action Days, March 29-31. Due to the fact that the Parliament was holding discussions about raising the retirement age and protests were quickly organized for March 29 and 30, we reorganized our plans a little and participated in these protests.
On March 29, we protested at the Parliament with a banner saying "the strike is our best weapon", handing out leaflets and talking to the rank and file members of mainstream unions about radicalizing protests and the strike in Spain. Many sent their greetings to our comrades in struggle that day.
Some part of ZSP took the day off in solidarity with the strike in Spain. Besides the protest at the Parliament, some people also visited another protest about a repressed unionist from another union.
At the Spanish embassy we protested, sending our message to the government representatives. We talked with some of the employees of the embassy who supported the strike. Later, despite the heavy showers that we on and off, we demonstrated with a couple of dozen people in the center of Warsaw. Besides the ZSP, some Spanish students who had been involved with M15 came. There were speeches, songs and chants in Spanish and Polish.
On March 30 was a large demonstration with a few thousand people at the Parliament about raising the retirement age. We participated in this event throught the day. At one point we left and had another protest - about the privatization of school cafeterias and firing of cooks. We had planned a bigger protest, but due to several factors, there will be something on April 3 instead and we made a smaller protest and leafletting action. After it, we returned to the Parliament where the protest was still going strong and getting more radical.
On March 31, we organized a demo with a few hundred people in the center of Warsaw. A separate report on this event is published on this webpage.