Pracujesz na umowie śmieciowej? Możemy pomóc!
International Actions in Solidarity with EULEN-ABB Strikers
Anonim, pon., 06/02/2012 - 22:05
Image: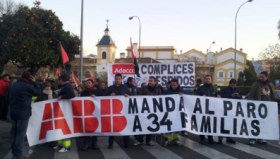 Since the beginning of the strike of workers from the ABB factory in Cordoba on Nov. 28, there have been numerous solidarity actions around the world, in front of ABB factories and offices and the offices and headquarters of ADECCO, whose company EUROCEN sent workers in to replace the strikers.
The ZSP protested at both ABB and ADECCO headquarters in Poland and an ADECCO recruitment office and is planning more actions in support.
Last week, the first week of February, numerous actions were held around Europe by our comrades from the IWA.
In Great Britain, the SolFed organized a series of actions in many cities in the last weeks of January and beginning of February. Pickets were held in front of Adecco in places like Newcastle, Liverpool, Bristol, London, Wakefield, Brighton, Glasgow and the Warrington headquarters of ABB was visited with a protest.
In Germany, comrades from the FAU picketed ADECCO in Frankfurt. In France, the comrades from Clermont-Ferrand did the same. Despite the freezing cold through most parts of Europe, our comrades supported the strikers, informing the public of the conflict.
In Slovakia, the comrades of Priama Akcia went to ABB and ADECCO offices in Trnava, Zilina and Bratislava, having already visited them in December. They also are encouraging people to send protest letters, for example, through this form. Many people have already done this.
The NSF also produced and distributed leaflets in Norway. In Poland, the ZSP also produced bilingual educational material for Spanish and Polish students which included information about the strike and the conflict of the workers at the National Library in Madrid.
All of these actions came before the dates that the comrades from CNT called for more international actions, so we are sure that this is just the beginning and more solidarity is to come!
In Cordoba itself, over 300 people demonstrated on the 3rd of February, despite the cold. This action was organized for support before the court date of the strikers. They are to appear in Labour Court today to defend their right to strike and will have an assembly afterwards to discuss further actions.