Pracujesz na umowie śmieciowej? Możemy pomóc!
International Nurses' Day
Anonim, śr., 13/05/2015 - 22:58
Image: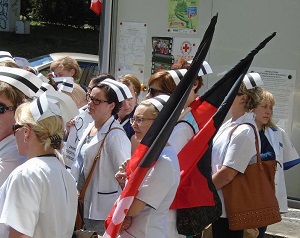 International Nurses' Day in 2015 was above all a wave of protests and warning strikes which took place in many cities in Poland. Many of them was organized by the OZZPiP (Union of Nurses and Midwives). In some places unions protested with the support of regional chambers of nurses and midwices. In the Silesian Voivodship, strikes took place in at least 9 hospitals: in Bielsko-Biała, Czeladź, Jastrzębie Zdrój, Katowice, Knurowie, Racibórz and Wodzisław Śląski.
In Bielsko-Biała about 100 people took part all together in the protests organized by the Union of Psychiatric and Rehab Workers (ZZPLPiU) and the ZSP-Health Care Workers union (ZSP-PSZ). What is important is that the postulates concerned all workers employed in health care. Workers from the OZZPiP from Bielsko Biała and Zywiec region joined in.
In Małopolska the OZZPiP organized a demonstration with over 200 people on the main market square in Krakow, which was supported by other unions in the branch. Solidarity from Wadowice and a delegation of doctors from ZSP-Health Care Workers union also took part.
ZZPLPiU/ZSP-PSZ