Pracujesz na umowie śmieciowej? Możemy pomóc!
The CNT in the Airline Industry
Anonim, wt., 26/06/2012 - 13:29
Image: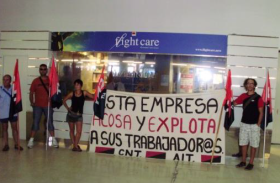 Over the last few years, the CNT-AIT has been active in the airline industry in Spain. Its members have organized unions in airlines and passenger services firms, in areas such as ground handling or sanitation services. Its actions have included strikes and partial strikes in Prat Airport in Barcelona, in Iberia airlines and actions against companies such as Vueling and Ryanir, FlightCare and WFS flight services.
Recently it decided to sue the low-cost airlines Vueling and Ryanair as well as Groundforce after they took over the business of the bankrupt Spanair without transferring any of its employment contracts. What these companies did was then to try to recruit some of the former employees on much worse working conditions. In this process, these companies are trying to avoid application of the collective agreements as well.
The union in general is set to fight against the increased avoidance of collective agreements, made even easier by the recent labour reform. Airline workers have come under increasing pressure in recent years, especially as low-price airlines have driven down labour standards and companies seek to make cuts at the workers' expense.
The airlines and passenger service firms have on a few occassions responded with union repression. The CNT has responded to this with increased pressure and actions, including strike actions and suits, demanding the reinstatement of dismissed workers. We are happy to inform that a comrade fired from Worldwide Flight Services in Barcelona last December was reinstated in May. The comrades from CNT had responded with various actions, including partial strikes every Friday.