Pracujesz na umowie śmieciowej? Możemy pomóc!
Citibank Looks to Solve their Problems with Repression
Anonim, sob., 14/03/2015 - 08:43
Image: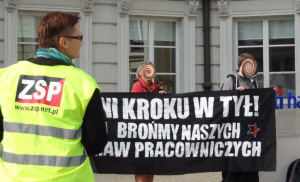 On March 13, a member of ZSP was interrogated by the police in connection with protests against Citibank. The union has organized a few protests in connection with the cases of three workers who are suing the multinational for discrimination, mobbing and sexual harrassment at work.
Citibank will probably take members of ZSP to court and is trying to initiate a criminal case against them. They have asked the police to confiscate activists' computers in search of evidence. They complained to the police, among other things, that activists "defaced their logo" and wrote "Shitibank".
The union will respond to the actions of the bank. It remarks that rather than tarnishing its reputation further by harrassing union activists and trying to send them to jail, they should resolve the conflict with the workers and make sure that those accused of these actions will not cause harm to anybody else.