Pracujesz na umowie śmieciowej? Możemy pomóc!
Bally Wulff: FAU Action Day in 8 German Cities
Anonim, wt., 22/11/2011 - 19:57
Image: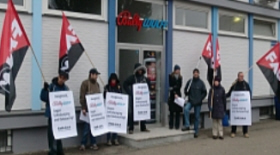 On November 18th, the Freie ArbeiterInnen-Union (FAU) organised several meetings in order to protest against the consequences of Bally Wulff's restructuring plan, which hits the only remaining screen printers in Berlin-Neukölln's gambling machine factory. The anarcho-syndicalist union federation FAU announced actions nearby 10 out of 12 subsidiaries; reports were available from 8 cities.
The first to gather in front of a Bally Wulff office were some members from FAU Dortmund who primarily informed the workers at surrounding enterprises. Many people expressed their interest and comprehension for the problem since many risk or fear the worsening of working conditions and the rise of precarious work, too.
Background to the union's mobilisation is the management's intention to close the last remaining printing shop which is involved in material production of gambling machines since many decades. Until July 2012 all printing tasks shall be outsourced. For their long seniority of more than 20 years, the two remaining active printers already got their notice of dismissal pending a change of contract in September 2011. This so called "offer" means a professional degradation and serious wages cuts of 30% for the workers.
At the same time, a dozen FAU members gathered in Offenbach, near Frankfurt, leafleting the targeted office and its surrounding about one hour long. And there were protests in Dresden, Mannheim, Hannover, Hamburg and Cologne, the latter supported by the local IWW. They all set up the banner of solidarity, but in almost all cities the local managements tried to hinder their workers in getting the information. Some office branches' doors were simply locked. In contrast, the people's reactions to these informative actions were overwhelmingly positive.
In Berlin, the FAU set up a meeting in front of the factory. Many inhabitants have already been informed by previous actions and asked if there were any news by the plant's management. One of the dismissed/changed workers made a short speech. Other speakers pointed out the aspects of outsourcing, temporary work and unions' liberties. The union matter is important as the management is currently preparing an judicatory attack on the FAU Berlin.
Text & Translation by A.F. (FAU Berlin)