Pracujesz na umowie śmieciowej? Możemy pomóc!
Another picket at Adecco in Solidarity with Eulen-ABB Strikers
Anonim, pon., 16/01/2012 - 16:05
Image: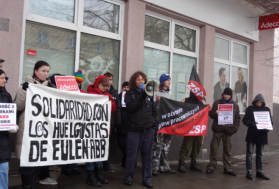 On January 16, the ZSP held another picket in solidarity with the strikers from Eulen-ABB in Cordoba who began an indefinite strike on November 28, 2011. The workers have been replaced by new ones from Adecco, who play the role of strike breaker in this conflict and which in general plays the role of providing staff for business which they can dispose of any time.
All of the striking workers have been fired by Eulen, the company they were outsourced from. The workers are demanding that they be given permanent contracts in ABB or at least are given the jobs that have been outsourced to Adecco.
Again we pointed out that the problem with companies like Adecco is something much more profound than in just this conflict but the role that they play in changing the patterns of responsibility towards employees.
We found it quite funny but also disburbing that one of the people from Adecco, before even bothering to listen, read of find out why we came (which we made rather obvious) simply jumped out of the office and, apparently assuming we were fired employees yelled that if we had worked better, we wouldn´t have been fired. This shows a lot about the mentality of the people that such firms get to work in their offices, who haven´t figured out that they are just as disposable as anybody else in the corporate food chain. But we made sure then that everybody working there knew why we had come and we understand that this information has been passed on in the corporation.