Pracujesz na umowie śmieciowej? Możemy pomóc!
Against Fictitious Self-Employment: Roche Case comes to Court
Anonim, nie., 07/10/2012 - 21:24
Image: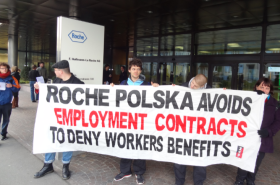 On Oct. 10, a case against the corporate giant Roche comes to court. If won, it would be a precedent for a large category of discrimated workers who are denied social benefits.
The case relates to IT workers at Roche Polska who were not given regular employment contracts. Instead, they were falsely hired as "independent contractors" or through businesses not licensed to operate as work agencies. However, they had to work as regular employees, therefore, we are claiming that a work relation actually existed with Roche, even though they deny this. By denying this working relationship, the workers were also denied benefits such as paid vacation, sick leave, maternity or paternity and social security benefits.
Roche Polska's lawyers defend the company with some incredible claims, such as that nobody forced them to work in the office, they could leave or take off whenever they wanted and, if somebody came in from 9-5, it was only because they themselves decided that.
Earlier in the year, Roche also announced that it would outsource IT work in Warsaw and Madrid. Now they pay an outside company intermediary fees just to try to make sure that no IT people claim they work for them!
But if this case is won, it would open the door for all those who were denied their benefits before.
Despite the fact that the law is pretty clear on what actually constitutes a work relation, employers is Poland go to all lengths to get people on bogus trash contracts, to make them service providers, entrepeneurs, or performing a specific task. A huge amount of workers are denied their rights as employees, in contravention of the Labour Code.
Although some unions now speak of trash contracts and try to do something about the false use of specific work contracts, none of them have yet said or done anything about the falsely self-employed, or those hired out by third parties which are not licensed as agencies. ZSP is thus bringing this problem to public attention and debate with this case.
Those who would like to support can send a protest to Roche through our electronic form.
See also: Precarity in the IT Sector.