Pracujesz na umowie śmieciowej? Możemy pomóc!
Activist from COB-AIT on Trial
Anonim, śr., 07/12/2011 - 14:59
Image: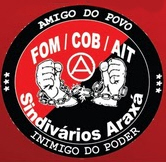 Our comrade is being charged with defamation for defending workers' rights in Araxa!
For speaking out for workers' rights and trying to organize in the FF Mercantil factory in Araxa, Brasil, our comrade Icaro Polletto was fired and threatened. (Basic information on this case can be found in many languages here: http://lotto.zsp.net.pl) Now he is being charged with defamation against the company, which is a criminal charge in Brazil. His trial will be on Wednesday, Dec. 14 in Minas Gerais, Araxá.
The workers of FF Mercantil were demanding an 8 hour working day and a 5-day work week, better health and safety measures in the factory, extra payment for work in dangerous conditions and the right to organize.
After the firing of our comrade, the COB-AIT demanded his reinstatement and called for a boycott of the Lotto and Finta brands of sportswear, produced in the factory. The charges are related to their informational campaign.
The various trades union, Sindivários Araxá of the COB-AIT, is calling for solidarity.
Since the firing of Icaro, the struggle has been continuing in the factory. A group of six workers went on strike but were fired. Other dismissals are being carried on as well; in November, the factory fired 40 people and threatened to close its doors.